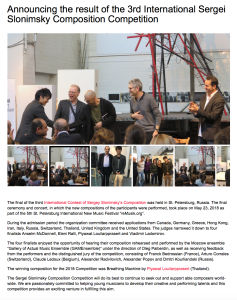 Sergei Slonimsky Composition Prize Winner 2018
Piyawat Louilarpprasert won the International Sergei Slonimsky composition competition at St. Petersburg New Music Festival with the work, Breathing Machine for ensemble, performed by GAMEnsemble (Russia)
The Score will be published by remusik publisher.
The Otto R. Stahl Memorial Award goes to a composer for excellent work, LOUILARPPRASERT.
"His Compositions suggest a post humanist approach to sound production, where performer, instrument and objects become new agents"
Professor Marianthi Papalexandri-Alexandri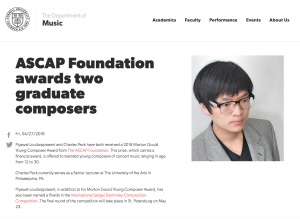 Piyawat Louilarpprasert and Charles Peck have both received a 2018 Morton Gould Young Composer Award from The ASCAP Foundation.

Piyawat Louilarpprasert has been selected as one of the recipients of 2018 Morton Gould Young Composer Award 2018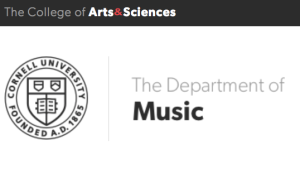 Piyawat received Sage Fellowship to study doctoral degree in Composition at Cornell University.